Domaine de Tal Ar Galonn rental of an atypical and high quality gite and studio Rosporden, Finistère
Are you looking for accommodation, a gîte, a rental that is both unusual and unusual, upmarket, but with affordable luxury? Not far from the sea, but in the middle of the countryside, come and spend your holidays in Rosporden in Finistère at the Tal Ar Galonn estate.
A little piece of Celtic paradise for holidays open all year round
The Tal Ar Galonn estate (close to the heart in Breton), a property of character and charm, welcomes you all year round to its high standard gîte and its small, cosy studio. Warm and atypical, they are both located in a magnificent green setting in the heart of the Breton countryside of Kernevel in Rosporden.
Surrounded byanimals, the estate offers a very relaxing holiday in an atmosphere conducive to reverie or meditation. Of course, the large wooden terrace and the garden furniture that can accommodate up to 12 people also allow you to enjoy festive and convivial evenings.
The Tal Ar Galonn estate is ideally located in a quiet area, only 15 minutes from the Pointe de Trévignon, the key town of Concarneau, the Pont Aven museum, the medieval town centre of Quimper and the splendid beaches and coves of South Finistère facing the Glénans archipelago.
The owner, Chantal and her daughter Honorine, present on the site (but discreet), are at your disposal to bring you all the information and details facilitating your stay and allowing you to reach the most beautiful wild beaches and creeks.
Tal Ar Galonn is also...
The structures welcoming children in difficulty are welcome. Tal Ar Galonn will collaborate in the implementation of any project that will allow the children to live beautiful experiences with nature and animals.
The possibility of bringing your pet on holiday, in fact your pets are accepted on prior request and on conditions.

Parking spaces reserved for customers.

A domain adapted to riders. You can welcome your horses in the meadow adjoining the garden of the gite (water and hay available), the van can park on the private parking.

An ideal place to organise day events: birthdays, christenings, parties with friends or family etc. Reception tents/barnums can be set up in the garden, with free access to the terrace and the use of the gîte's kitchen and a bedroom.
A setting conducive to horseback riding. Two possibilities: from the gîte or 9 km away in the large and beautiful forest of Coatloc'h, a natural site that was once the cradle of clog makers and stone cutters.
PONEY BAPTEMS WITH HONORINE : A small meeting with the pony Ronny Rock Star. A small invitation in a friendly setting for a safe experience with guaranteed success.

The guarantee of an unforgettable educational outing. Tal Ar Galonn offers schools the opportunity to visit the animals and enjoy a picnic area to stay with them all day.
| | |
| --- | --- |
| – 10 % | on the second week during a stay of two consecutive weeks. |
| – 15 % | on the third week during a stay of three consecutive weeks. |
| – 10 % | on the third stay (valid for 18 months). |
| – 5 % | on reservations made six months before the stay. |
|   | Non-cumulative offers, valid outside high season and very high season. |
The press speaks about it
There are melusines in Brittany: two in Tal Ar Galonn, which at nightfall and in the silence will perhaps put on your dreams the velvet blanket of rests with mead embroideries.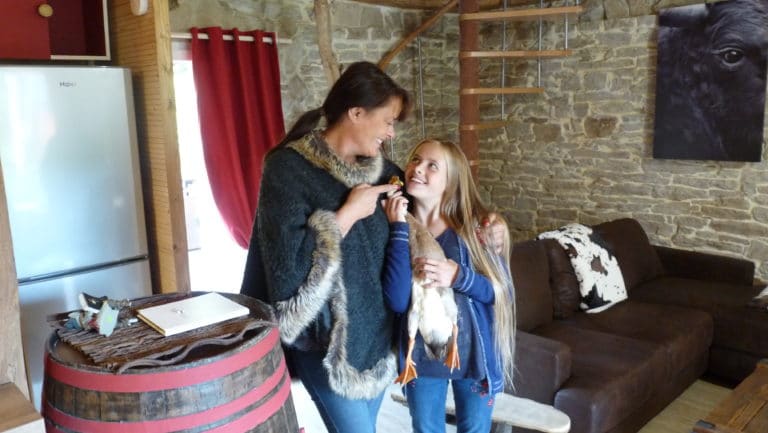 The Mag
Chantal and Honorine : Complicity around the duck Anatole
Read More
We stayed in the Domaine Tal Ar Galonn gîte last August (2031). There were seven of us in all, our family of two adults with our three teenagers (14, 16 & 17) and my parents. The gîte is completely in line with the photos published in the website. The gîte is a chalet, decorated with much care and attention to detail along the themes of nature. Chantal had a very warm welcome for us and was most accommodating where the storage of our more bulky luggage was concerned. Inside a very tasty aperitif had been prepared for our arrival - what a lovely treat. The chalet is very cosy and it is very easy to see the personal work that went into the decoration and furnishing of the house.By far, our favourite place was the patio, accessed from the kitchen/living room. It was extremely spacious, equipped with a barbecue and very practical for our meals. We availed of the peace and quiet and the serenity and calm of the garden and surrounding fields. Chantal is a warm, kind and gracious host. She gave us great advice on nearby attractions, sites to see and restaurants. Chantal is a helpful and responsive host. Thank you so much Chantal, for making our stay as comfortable and pleasant as possible.Rosporden is ideally situated for visiting Quimper, Concarneau and surrounding beaches and heads.

Orla Mc Tiernan
12:24 04 Oct 21

Liam Bouloton
12:12 04 Oct 21
Great weekend in the countryside, the gite is superb, Chantal received us very well, we feel good in this gite decorated in a chalet style. There is reading, walking and beaches nearby, great with children. Thanks again to Honorine for the horseback ride, the children were delighted.

Didier Miglierina
18:29 21 Mar 21
We had a pleasant stay at the Tal ar galonn gite, very nicely decorated, cocooning atmosphere. The children were delighted to have spent some time with Honorine to learn about the farm animals. The gîte is ideally situated for visiting all the beautiful things in the department. Thanks again to Chantal and Honorine who do a remarkable job.

Aurelie Bechec
21:30 06 Jan 21
A very pleasant stay in Brittany in an atypical and really well cared for setting, we underline the attention to detail and the beautiful decoration to make this gite a modern and exotic mountain chalet. Chantal welcomed us with a homemade aperitif and the very nice Christmas tree put us in a warm atmosphere. Everything was perfect and our requests were fulfilled. Thank you very much for this welcome and we keep a very nice memory of this stay in Finistère, the children and the dogs who accompanied us were able to meet the horses and see the fawns in the forest at the foot of the house.

Emmanuel Moras
20:34 04 Jan 21
Everything is there to make your stay as pleasant as possible, located near exceptional sites and in a peaceful place, everything is there to recharge your batteries. Do not hesitate one second, moreover Chantal the owner reserves you a reception of most sympathetic, and will know how to guide you during your visits in this very beautiful area.

raymond dorleac
20:46 09 Oct 20
Excellent stay, beautiful setting, the gite is warm and tastefully decorated. We felt at home. Very good welcome, discreet hostess but present if needed for a little advice visit or beach. We highly recommend it!

Benoit Ballandonne
21:55 11 Aug 20
Very nice cottage, owner at the top and listening. Wonderful environment for a total change of scenery. I highly recommend...

Mickael MARTIN
22:59 05 Aug 20
Very nice gite and a great welcome.

Claire Le Page
17:13 01 Aug 20
GOOD MORNING TO ALL. I AM THE OWNER YOU WILL FIND BELOW MY ANSWER TO THE 3 FALSE OPINIONS WHICH EVOK DESASTER AND DISASTER: indeed my accounting proves that my gite tal ar galonn did not receive any holidaymaker in May or June having undergone like so many others the effects of covid 19. These people have never been to the gite, they are neighbours who have been holding rave parties for years for birthdays without ever being bothered by anyone. It turns out that on the 4th of July, in order to preserve the peace and quiet of my clients, and even though they were shooting off fireworks at midnight, I called the police. These people allow themselves to make false comments of a defamatory nature, therefore criminal and punishable by law, and I intend to do what is necessary.that my real customers are reassured on the high quality of services offered at the domain of tal ar galonn.they have hijacked my google account so I can only respond through this post.

honorine morillon
15:45 19 Jul 20
A superb weekend spent in this beautifully decorated cottage . a very warm atmosphere and a welcome from Chantal and her daughter . the little children were enchanted with all the animals around . we will return for a longer period . to discover absolutely .

Pascal Noslier
10:05 12 Dec 19
An unforgettable stay in Brittany at Tar Al Galonn. In the countryside and ideally located not far from the beaches of Concarneau, this gite is truly unique, decorated with a certain taste. You feel like you are in the heart of a fairy tale. It was a total change of scenery in the land of fairies, korrigans, without forgetting the animals, all nicer than the others. A big thank you to Chantal and Honorine, her daughter, for their kindness and their discreet attention. We will be back!

Alexandra Coin
14:27 02 Nov 19
We had a wonderful week thanks to Chantal and Honorine! The gite is well decorated and tastefully furnished... The animals around make the children happy, the calm of the site really allows to rest and to cut off from the daily stress! We liked it so much that we will go back in August...

ophélie desfaudais
09:06 30 Apr 19
A very nice gite and setting, especially thanks to the welcome and the animal life around it. And all for a reasonable price!

Bastien Le Parc
17:32 13 Mar 19
A great stay in a beautiful and pleasant setting. The animals around the gite are a delight for the children. The gite is very pretty and atipyque. Thank you also for the welcome and your kindness

Lorentz 56
09:05 05 Mar 19
Beautiful holidays with a very warm and friendly welcome

Styven Plisson
19:18 04 Mar 19
Very nice place, restful and relaxing, surrounded by animals! Very warm welcome from the owner and her little daughter! Comfortable rooms! Very pleasant stay!

Sylvie Colas
20:57 02 Mar 19
A perfect and warm welcome, the owner is adorable and the place is beautiful. The gites are tastefully furnished and a great time is had by all. I recommend this place for a long or short stay.

Justine Tanter
10:26 28 Jan 19

Paros Agata
09:49 13 Oct 18

Contact Bijouxhautefantaisie
09:47 13 Oct 18
Let's stand together against Covid-19
The SARL Tal Ar Galonn respects a precise sanitary protocol including the meticulous disinfection of its accommodation between each rental.
Barrier gestures are and must be respected in all circumstances. Hydroalcoholic gel is available in front of all entrances and must be used each time you return from a visit. Wearing a mask is mandatory during exchanges.
Failure to comply with the rules of caution may result in the cancellation of the rental contract.
If your stay is cancelled due to government containment measures or because one of the travellers has contracted Covid 19 (subject to presentation of appropriate proof), we offer a postponement of the stay under the same conditions and at the same season. If the postponement of the stay does not suit you, we propose a refund of the deposit.